7 ways to avoid losing money with bank fees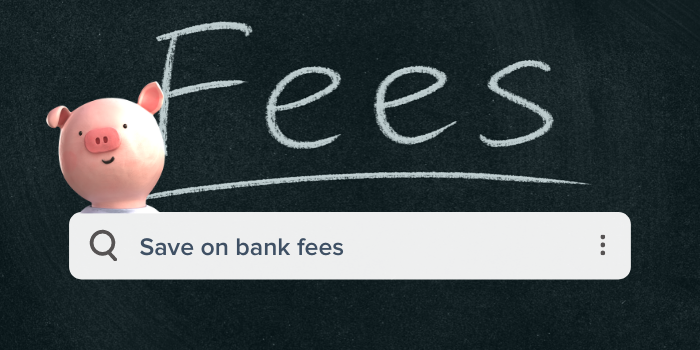 Let's face it; we're way past our last year's 'new year resolutions' - to save more' or 'be more aware of our finances'. But why do we set ourselves up to fail with vague goals, put into action only once a year!? The truth is, if you want, you can start to achieve your goals every day! Even if you're thinking to yourself, "It's hopeless! It's August! I'll NEVER achieve my goals! Why did I leave it so late?". What you should be asking is why should I limit myself to goal setting only once a year! It's time to start now… 
Building awareness and being on top of your finances can feel like trying to slash a path through an impenetrable jungle... Most of us know what we need to do, but it can feel so daunting we put it off... and put it off... But With the right tools and a slight mindset tweak, we can make overwhelming financial lessons seem, well...less overwhelming!
To help you get down 'n' dirty with the bank fees business, here is a step by step starting guide of tangible things you can do to help you tame your wild bank fee beasts! 
Savings accounts
These are designed to help customers maximise their savings by keeping them there. This means that while most banks do not impose account maintenance fees on savings accounts, withdrawal costs are possible. These accounts usually have a base interest and bonus if no withdrawals are made. Some accounts reward more significant savings with higher rates of return. Withdrawing money will, in most cases, result in the loss of the opportunity to collect extra interest. So the first lesson here is not to remove cash from savings! Second, quickly google the best saving account profit rates in NZ and find out which one is best for your needs!
Cards
A credit card may be appealing, but the high interest rate means debt can accumulate quickly. An interest-free overdraft might be a better option since it allows you to borrow up to a certain amount without paying interest. Most banks provide this as part of a student account, for example. The lesson here is you can get a card with no costs whatsoever; you can also get one that earns you points or cashback. What is the most appropriate for you? Be sure to check and compare the rewards of the various cards on offer from different providers. 
Overdraft fees
If you require an overdraft, contact your bank. There will always be set-up and monthly costs, but it will be less expensive than ordinary dishonour or honour charges. Speak with the bank if you believe the fees are excessive. Many customers can get specific bank charges reversed. Check your balance often, especially if you might be sailing close to the wind, and there is a significant risk of becoming overdrawn. Signing up for internet banking lets you check balances at any time.
Penalty and service fees
In general, dishonour fees and "penalty" fees deter customers from a particular behaviour. But there is no evidence such fees work as a deterrent. So it's up to you, the customer, to look up a bank with little to no service fees. Be alert and aware, don't get yourself into any situation that could lead to a penalty fee. 
High balance accounts
Most banks provide at least one day-to-day transaction account with no transaction fees if you maintain a minimum level of, generally, $4000 or $5000 or if your monthly transactions are less than a specified amount. Did you know that some accounts offer interest on your balance? Be wary of this! 
Play your cards right
You may be charged a fee when using your EFTPOS card, but not when using your credit card. However, if you use a credit card, you must pay it off in whole and on time every month to prevent being charged exorbitant interest rates or late fees. Also, do it online! When you do business at a branch, you could be imposed some fees.
Bank smarter
With them, we send money, invest, get paid, and pay our dues! It's a facility for us and intended to be helpful - and profitable. If your current bank is not aligned with your needs, another one might be. It might be time to switch! Learn about the best bank/account/cards/financial arrangements for your requirements, because with not knowing comes wasting money! Check the costs on your current account first, and then figure out how to avoid them. Remember that you do not have to get all of your banking services from the same place. For example, don't disregard a savings account that is more profitable at one bank and a regular bank account at another. A bank that offers a 1% profit on your savings account and has no change is better than saving your money on your current bank savings account that will often offer you less than 0.05%. Switch your bank if you find a better deal elsewhere. 
Often banks offer new customers a better value/deal than existing ones. But before switching, ask your bank to do better! You can ask your existing bank to look for ways to cut your costs. Would it help if you combined accounts? Do you need to consolidate any debt? Once you know how to save, you'll have a benchmark to compare your current bank with others. Doing so can save you the hassle of having to switch at all. 
We've said it before, and we'll say it again! Consider it a friendly reminder to improve your banking knowledge