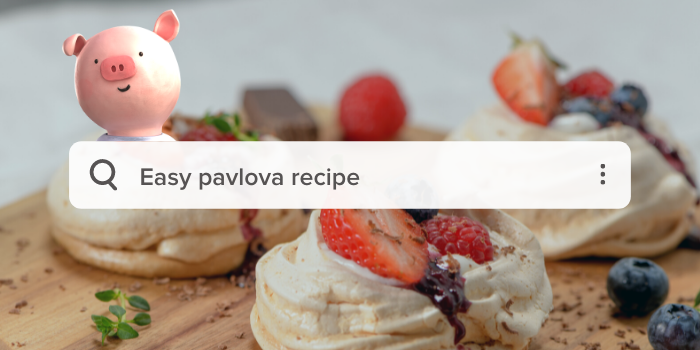 This mouthwatering, easy pavlova recipe only takes 20 minutes to prepare - the rest is baking time! It's a dish popular with New Zealand celebrations... a refreshing sweet treat served with delicious berries! Just irresistible - yum!
Ingredients
6 egg whites (at room temperature)
2 cups refined sugar
1 tsp vanilla essence
1 tsp white vinegar
2 tsp Cornflour
300ml Cream, whipped
Fruit for decoration (any berry or fruit of the season you like!)
Pre-heat oven to 110ºC bake (not fan bake).

Line a baking tray with baking paper.

In a large metal, ceramic or glass bowl (not plastic), beat the egg whites until soft peaks form.

Continue beating while adding the sugar a quarter of a cup at a time. The mixture should get glossier and thicker with each addition and this should take at least 10 minutes. Beat in the vanilla, vinegar and cornflour.

Bake for 30 minutes, then reduce the heat to 100 degrees and bake for a further 45 minutes. Turn off the oven, and leave for a minimum of 1.5 hours, until dry and crisp and it lifts easily off the baking paper. Turn the oven off and leave the pavlova for at least an hour before removing it from the oven. Finish cooling on a wire rack. 

When completely cool, place on a serving plate, swirl the top with the whipped cream and decorate with sliced or chopped fruit of your choice.
Tips:
Older eggs work better as the white breaks down easier.
 When preparing a Pavlova recipe, the most important thing is to have scrupulously clean utensils, free of grease, egg yolks, or eggshells. Wipe the bowl beforehand with lemon juice to remove any greasy residue before beating the egg whites - grease affects the ability of the egg whites to form peaks. 
Keep the egg whites at room temperature before beating them.
Enjoy!