7 ways to make some extra $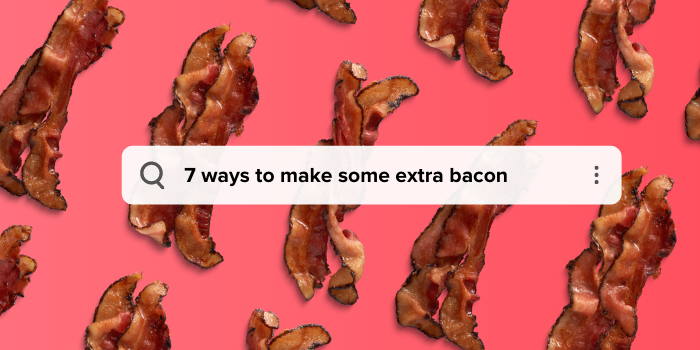 We could all use some extra cash from time to time. Whether you're saving for a wedding, house deposit or trying to pay off debt, a little extra money can go a long way. This is where having a side hustle can be a game-changer!
Sure, your day job might cover the essentials. But having a second income stream can make all the difference when it comes to boosting your savings or helping you reach your financial goals.
1. Sell second-hand items online

Trash and treasure markets or garage sales were once the go-to options for people selling second-hand items. But these have now been overtaken by sites like Facebook Marketplace and Trade Me. As a result, the second-hand economy is booming.
Unsure if you have anything worth selling? You might be surprised. Take a look around your home and see if there's anything you've been meaning to get rid of. This can include things like clothing, books, furniture, baby gear or sports equipment.
When listing your item, take good quality photographs and include relevant information like the item's size and condition. Research what other sellers are charging for similar items to get an idea of the market and be sure to factor in postage costs as well.
2. Be part of the gig economy

Do you work in a specialist field or have sought-after skills? It's highly likely that someone, somewhere could use them. Put these skills to use outside the workplace and be your own boss. This is an easy way to earn a second income through something you're already great at.
For instance, if you have a job in journalism or communications, do some freelance writing on the side. Cash in on your video or photography skills if you own a drone or camera or start custom-building children's cubby houses or dog kennels if you work as a builder or carpenter. There are plenty of places to look for freelance work, try upwork.com.
3. Rent out a spare room

If you have a spare room in your home that's gathering dust, why not put the empty space to use? Finding a permanent tenant to rent the room could earn you around $190 per week on average according to Roomgo, which adds up to a whopping $6,916 per year after tax.
If you don't want to commit to a full-time tenant, you can rent the room on Airbnb during weekends or holidays. The amount you can charge will vary depending on your property type and location, but this can be a lucrative way to make some extra cash. Popular festival, Gig or event happening in your area? Increased demand for rooms can mean you can get a great rate for just a few nights!
4. Become a pet sitter or walker
If you love animals and have enough room in your home, look after people's pets for a fee while they're away. You can also travel to people's homes and pet-sit from there. Keep in mind that this is probably best suited to people who are studying or working remotely, as you need to be there for your fluffy ones when pet sitting, especially for the Doggos!
If you don't want the full responsibility of pet sitting or you don't have the space, consider offering your services as a pet walker instead. You can easily fit in some walks before or after work or even on the weekends.
5. Become a housekeeper
Are you a whiz at domestic chores? Then start getting paid for it. There are plenty of people who either hate cleaning or don't have the time and will happily pay someone to do it for them. 
You can usually find plenty of ads for cleaners or housekeepers on sites like Airtasker or Trade Me.
6. Teach or tutor

Many people want to improve their skills or knowledge in a range of different areas like maths or English and even topics like business management or accounting.
If you have the knowledge or educational background, tutoring from home can be a lucrative side hustle. Better yet, this requires minimal outlay, so you can get started almost immediately.
7. Look for jobs on freelancer sites

If you have some free time coming up and want to make some extra cash, browse through the advertised jobs on Airtasker, Fiverr, Builderscrack, or similar. This might include anything from van pick-ups and deliveries to pool cleaning or grocery shopping.
Side hustles can be a great way to gain new skills, tentatively try out that new business venture or grow your portfolio of work. Keep in mind that there may be tax implications depending on your earnings or hours worked. You may alsoneed a small loan or financial assistance to help you get started.
Not only can you be your own boss and work on your own terms with a side hustle, but you'll also get one step closer to reaching that financial goal.
If you're looking for more ideas about how to make some extra money, here are some more of our favouriteside hustlesto get you started.