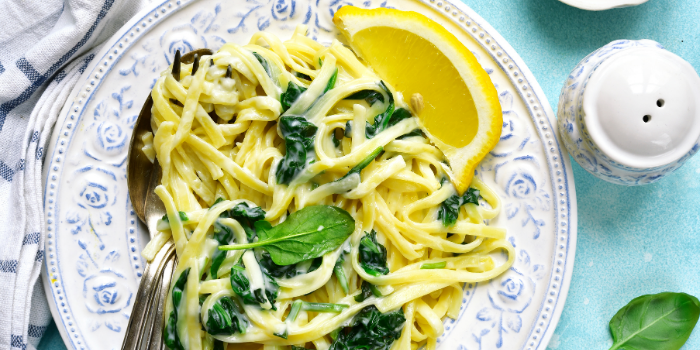 Cook with Kevin Recipe!
Serves 4



2 unwaxed lemons
Salt and black pepper
450g spaghetti (or any pasta!)
50g butter
120 ml single cream
1 small garlic clove, peeled and crushed 
4 heaped tbsp grated parmesan (don't have parmesan, swap for regular cheese!)
Cooking Method: 

Bring a large pan of water to a boil for the pasta. 

Using a vegetable peeler, peel off the yellow lemon skin and as little pith (the yucky white bit!) as possible from one lemon. Cut the peeled strips into thin slivers.

Grate the rind from the other lemon, then squeeze out the juice and put to the side.

Once the water boils, add salt, stir and add the spaghetti.

While the pasta cooks, in a wide frying pan over medium-low heat, warm the butter

with the garlic (peeled and crushed for gentle flavour, sliced for more robust flavour) lemon slivers, zest and two tablespoons of lemon juice. Once the butter is foaming gently, stir in the cream and two tablespoons parmesan (or cheese!). Bring up to a bubble. Turn the heat to low and keep warm.

Once the pasta is ready, drain, reserving some of the sea salty cooking water (or lift it directly into the frying pan with tongs), then toss in the creamy sauce and swish vigorously, so the starch from the pasta combines with the sauce. Add the rest of the parmesan and a few grinds of black pepper. Toss again, so the sauce clings to the spaghetti strands. If it seems stiff, add a little of the reserved water and stir again.
Serve up... and enjoy!