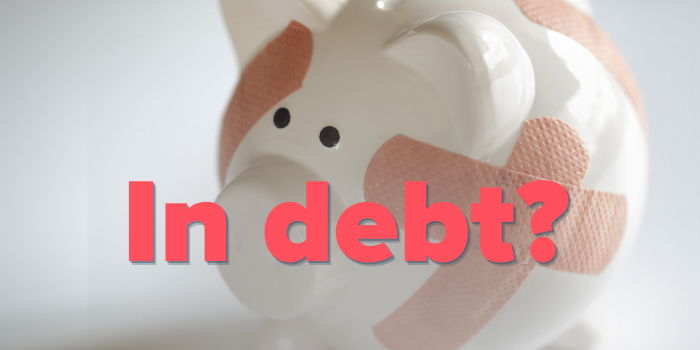 So, you may have heard terms like 'debt consolidation', 'consolidate your debt', 'consolidate your loans'... but what does that actually mean and how does it work?
Well, look no further as Save My Bacon is going to explain debt consolidation to you, and how it can keep your finances looking ship shape and not bursting at the seams.
We know life happens at lightning speed, and you can easily find yourself in a bit of a pickle, taking on more high-cost* short-term debt than you can handle. A quick fix here, an expensive bill there…
But taking out multiple loans, especially those designed for a short period of time, can leave you in tricky situations with mounting interest and repayments that are getting out of hand.
Debt consolidation is the process by which these multiple loans are paid off, leaving you with just one single repayment to one provider. The term "consolidate" literally means to "combine (a number of things) into a single more effective or coherent whole" - we will combine your repayments into one single repayment to us, clearing your other debts and depositing some fresh cash into your account to help you get by.
Why Should I Consolidate My High-Cost Debt?
Depending on your lenders' interest rates, high-cost debt consolidation with Save My Bacon could mean paying back less as our loans work out cheaper than your existing loans!
For example, Kevin has a high-cost loan (1st), and another high-cost loan (2nd) with another provider but needs additional funds to handle an emergency vehicle repair. Taking out an additional loan would leave Kevin with three separate loan repayments, any of which could easily be missed if they are not scheduled for the right time during Kevin's pay cycle, potentially damaging his credit score.  Kevin can take out a non-high-cost loan with Save My Bacon, to close his other loans and fix his vehicle... 
Let's take a look at Kevin's example in more detail*:
Kevin's fortnightly repayments to his existing lenders:
Existing 1st repayment = $253.56
Existing 2nd repayment = $216.86
Total in fortnightly repayments = $470.42

Save My Bacon offered Kevin a $2500 debt consolidation Flex loan, with repayments of $131.39.
Kevin got $519.75 into his bank account, his high-cost loans paid and closed, and a saving of $339.03 a fortnight!
By removing 1st and 2nd loans, Kevin will have 1 easy repayment of $131.39. 
*Please note this is just an example, savings and repayments will vary depending on your existing loan balances, how much you need and your new loan amount. 
Consolidating your debt should result in favourable loan terms, either with a lower interest rate and/or a longer loan term. Our friendly Customer Team will work with you to ensure debt consolidation is the right thing to do, so you end up paying back less through lower repayments and/or a shorter loan term and have more money to live your life now.
How Does Debt Consolidation Work?
All we need from you is to obtain a settlement figure from your other lenders and we do all the hard work for you! We pay off your existing loan(s) to your lender(s) directly and pay you the additional funds that have been approved into your bank account. We then set up a new repayment schedule for you with lower repayment amounts, so you have more money to enjoy life right now... Easy!
Just like that, poof, your other debts will vanish and you will only need to look at your new lower SMB repayment schedule. Please note that the new repayment will often be lower, however we also can debt consolidate high-cost and non-high-cost loans in which case the new repayment may not be lower.
If you are interested in a debt consolidation loan, please let us know by telling the friendly Customer Team member processing your loan, or call us FREE on 0800 278 236 or email loans@savemybacon.co.nz.
* High-cost debt refers to any loan with an AIR of 50% or above.
Please note, SMB are not financial advisors and are providing knowledgeable tips from our experience within this industry.