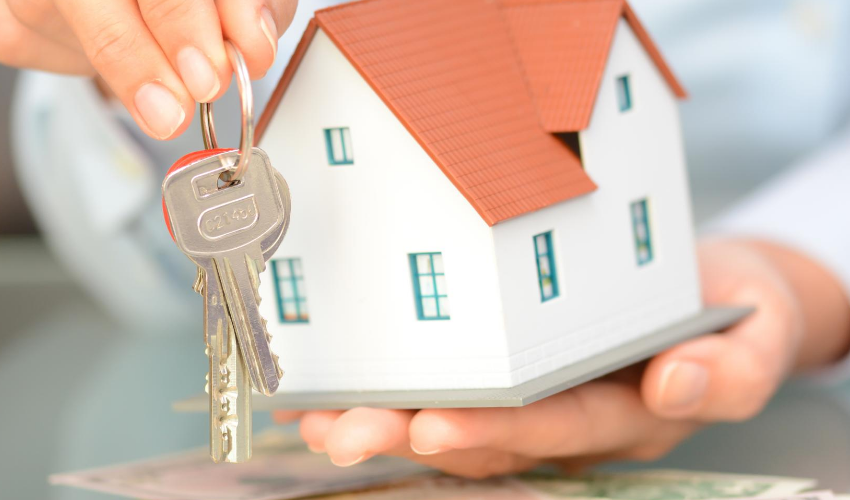 With mortgage rates expected to stay low throughout 2020, potentially falling as low as 2% mortgage brokers predict, now is a good time to get thinking about your first property.
Buying your first home can be pretty stressful with auctions, deadline sales, and finance to secure! Plus your mortgage is likely to be the biggest financial commitment you will ever make… but don't freak out! The Save My Bacon team have put together our top SMB tips for getting on the property ladder safely and protecting your financial wellbeing.
Look After Your Credit Score
Houses are expensive. There are no two ways about it! Buying a home will likely be the most expensive thing you purchase in your lifetime. Most people cannot afford to buy their first home outright, instead saving up for a deposit and securing a mortgage from the bank or another lender.
In order to secure such a sum from the banks, you must prove that you are a responsible borrower and capable of paying back the loan. When assessing your application the bank will look at a number of factors including largely your credit score. So make sure you keep on track with your bills and repayments to all service, utility and lending providers.
Want more info on what your credit score is and how to grow it? Check out our article 'How To Build Your Credit Score'.
Deposit - Set Your Savings Goals
To unlock the best interest rates out there for your first home mortgage, it is best to try and save up as much of a deposit as possible. If you can, saving up a deposit of 20% or more means you will get access to the best rates. For example if you are looking to buy a house worth $300,000 you will need a deposit of $60,000.
This has its benefits, the bigger your deposit, the less you'll pay in interest in the long run, and your main aim should be to pay off your mortgage as quickly as possible within your means.
It also pays to understand how much is realistic when setting your saving goals for your deposit, and asking yourself if this fits into your timeline for buying your first home… if 20% is looking a little out of reach don't panic! Even if you are in a great position financially it is possible to take out a first home loan without using a full 20% deposit with some lenders, so be sure to shop around.
If you have a higher income and a reason why you haven't saved a lot of money, you may even be able to secure a mortgage with as little as 5% deposit. Be sure to speak to your mortgage broker (see tip 4) when you are conducting your research.
Helping Hand - Government First Home Schemes
To help boost you onto the property ladder the Government has a variety of options including:
First Home Grant
KiwiSaver First-Home Withdrawal
First Home Loan
If you are Māori and want to live on ancestral land
Help buying a house owned by Kāinga Ora (Homes and Communities)
First Home Grant
First home buyers can get up to $10,000 through Kāinga Ora if they have been contributing to KiwiSaver for 5 years and are buying a new home or land. If buying an existing property you can get up to $5000.
KiwiSaver First-Home Withdrawal
If you have been a member of KiwiSaver for 3+ years you can apply to withdraw your savings to put towards your first home, however you must leave $1000 in your KiwiSaver.
First Home Loan
If you are single and earn less than $85,000 per year or purchase a property with two or more people and earn less than $130,000, then you could be eligible for the First Home Loan.
You must have a 5% deposit and buy a house within the regional cap price for your region. Kāinga Ora underwrites your loan and with your lender will want to make sure you meet certain criteria including your credit history.
Check out more details on this and the criteria you need to meet to get these grants here.
Get yourself a Mortgage Broker
Once you have your deposit, or at least an idea for when you would like to buy your house, you will need advice. There is a fair amount of jargon involved and why do all the legwork when there are specialists out there who can do it for you. To understand your best next steps and pick the right lender whom you will be indebted to for the next few decades ask a mortgage broker!... Having an in the know Mortgage Broker can save you a lot of headaches.
They will run through what you need and what you want, and help you select the best course of action… whether to go with a 10% or 20% deposit, the term of your home loan, how to apply and be granted for supporting finance, the list goes on! Oh, and their fees are covered by the lenders so it won't cost you a penny!
Get a Manageable Mortgage
Your Mortgage Broker will be able to advise you on the home loan you will be able to secure depending on your current financial position.
You can also check out a mortgage calculator that will give you an insight into how much your mortgage repayments will be. You can look at these repayments as weekly, fortnightly or monthly to figure out how these will fit into your pay cycle.
The standard term for most mortgages is 30 years, so this is a significant commitment you are making, be sure the repayments fit within your means and will not cause you unnecessary financial strain. Consider getting a tenant to cover a portion of the mortgage, this may be a great option to help you pay back the mortgage quicker too.
The repayments are made up of the loan and the interest, so the quicker you pay off your mortgage the less interest you will pay. Interest can vary between fixed interest (will not change during the term specified), floating interest (rates may go up or down depending on the market), or a mixture of both, you can usually create an agreement with your lender of a mixture of these with assistance from your mortgage broker.
Understand The Additional Costs
Buying your first home isn't going to be cheap, so it is important to be fully prepared for all the costs involved, so you don't get caught unawares! Some of these fees include:
Your mortgage - this will vary depending on the size of your deposit and the house you wish to buy.
Land Information Memorandum (LIM) - costs vary between $300 - $400 for a summary of all current info the council has on the house you are interested in. This includes any land issues such as damage or flooding, work done on the property and rates.
Legal fees - buying a house requires a lot of paperwork, and you need to know exactly what you are signing up for. These costs vary but expect to pay around $2000, and with that price tag it is worth doing your research, ask friends and family, shop around, and make sure you are happy with the work and costs. Your lawyer will need to look over the property title which shows you exact boundaries and records of info about your rights.
Insurance - home insurance and mortgage insurance will be needed to protect the biggest asset you now own! Protect yourself from worst case scenarios to ensure you get a peaceful night sleep. Talk to an insurance broker about the various deals and offers that are out there, it often works out cheapest if you have all your insurance within one company.
Building checks and reports - these costs vary but can be between $300 - $800 per report!
Buying your first home is a step towards financial freedom, so power up your savings and get onto that property ladder!


Please note, SMB are not financial advisors and are providing knowledgeable tips from our experience, this article is a guide about the options available to first home buyers.