An Adorable, Easy Easter Treat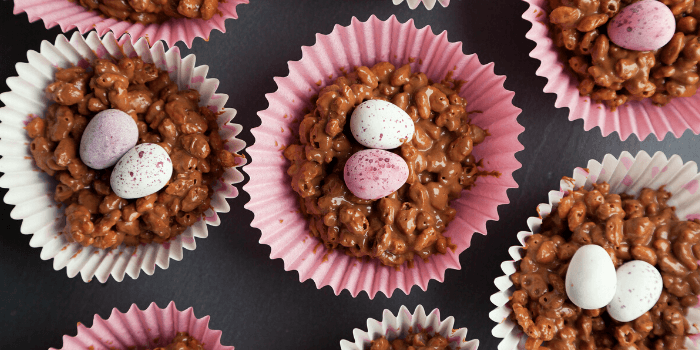 Keep the family busy during lock down with these easy to make chocolate rice crispy nests. The kids will love shaping the nest and adding the eggs!...
Ingredients
200g chocolate, broken into pieces
2 tbps golden syrup
50g butter
70g rice krispies (or other cereal)
Mini chocolate eggs or jelly beans
Method
1. Line a muffin tin with 12 paper cases.
2. In a large bowl, melt chocolate, butter and golden syrup together in microwave, stirring very 30 seconds (you can also melt ingredients in a bowl over a pan/pot of boiling water, but be careful not to let the bowl touch the water).
3. Once melted, gently stir in the rice krispies until all the krispies are covered in chocolate.
4. Divide the mixture between the paper cases and gently mould into a nest shape.
5.  mini eggs, or other decorations, add the eggs to the top of the each nest. Chill in the fridge for 1 hour, or until completely set.