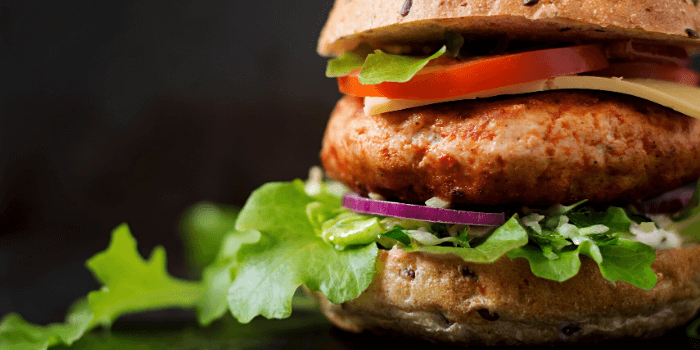 Recipe
Here is a great summer recipe, really enjoyed by some of our staff.
 Ingredients
1 tbsp oil
4 tbsp piri-piri sauce or other mild chilli sauce
½ lemon juiced
Burger buns, split in half
250g block lighter halloumi sliced into 8 pieces
2 tbsp mayonnaise
4 tbsp hummus sour cream & chive dip
Handful of rocket or 4-8 soft lettuce leaves
2 large roasted red peppers
Method
1. Put the chicken breasts between two pieces of baking parchment and roll with a rolling pin until 1cm thick. Cut each into two even pieces.
2. Heat two frying pans over a medium-high heat, heating the oil in one. Fry the chicken in the oiled pan for 3-4 mins on each side until cooked through. Season. Reduce the heat, drizzle in the chilli sauce and half the lemon juice and cook for 1-2 mins more until the sauce is reduced. Remove from the heat.
3. While the chicken cooks, toast the buns in the dry frying pan for 30 secs. Transfer to a plate, then fry the halloumi in the pan (add a bit of oil if the pan is not non-stick) for 30 secs on each side until golden. Toss the cabbage with the mayo and remaining lemon juice.
4. Spoon the hummus (or dip of your choice) into the toasted buns, then top with the rocket, chilli chicken, halloumi and peppers. Drizzle with a little more chilli sauce, spoon over the cabbage, season with black pepper, and top with the bun lids. Serve with any extra cabbage on the side, or a green salad.