So, whether you're a New Zealand / Auckland neophyte, a local, or a seasoned adventurer looking for a new travel destination, just keep reading to discover 20 of the best - and freest! - things to do while you're in Auckland. This guide will help you get the most out of this awesome city without spending a cent!

The idea of this blog post is to challenge the notion that you need money to have a good time, and that a lack of money would naturally depreciate your quality of life. We sometimes forget that this is just not the case. Here we will show you that even in the most expensive cities in New Zealand, there's plenty of free activities you can enjoy and enhance your quality of life.
For instance, did you know that Auckland, New Zealand's largest city, is filled to the brim with super-fun stuff to do? It is, after all, a thriving metropolis, and hey, guess what? Most of it's free!

Now, you might be thinking there's some kind of catch, but fear not, gentle reader - they haven't been ranking this city as one of the world's best places to visit and live for years just on a whim! Stuff like this is why it's a reality.
1). Go Volcano Hiking
People like to tout Hawaii as the go-to destination for volcano treks, but New Zealand has a great volcano hike in Mount Eden. Comprised of a dormant triple-crown volcano wrapped in beautifully landscaped parks, Mount Eden is both the highest natural point on the island and a 30-millennium old Maori archaeological site. Add in the killer views, and this is a freebie not to be missed!
2). Be Artsy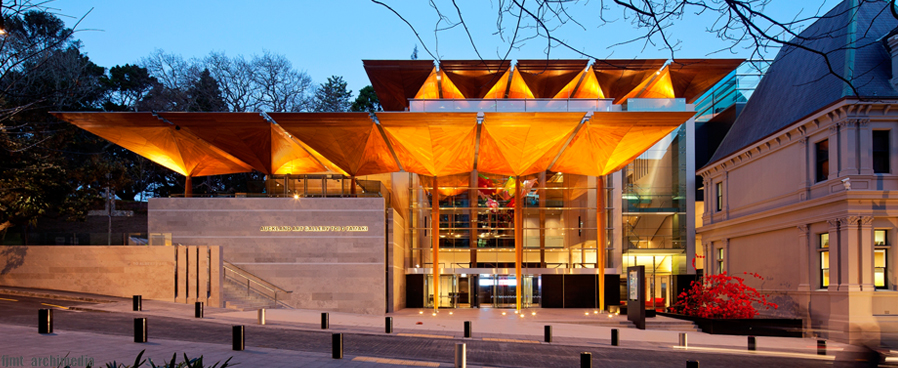 The Auckland Art Gallery has more than 15,000 works from various artists of all styles and levels of renown lining its corridors, and they're all open to the public for viewing at no charge. Tours are given each day, so grab a ticket and soak up some culture!
3). Take a Walk on the Wild Side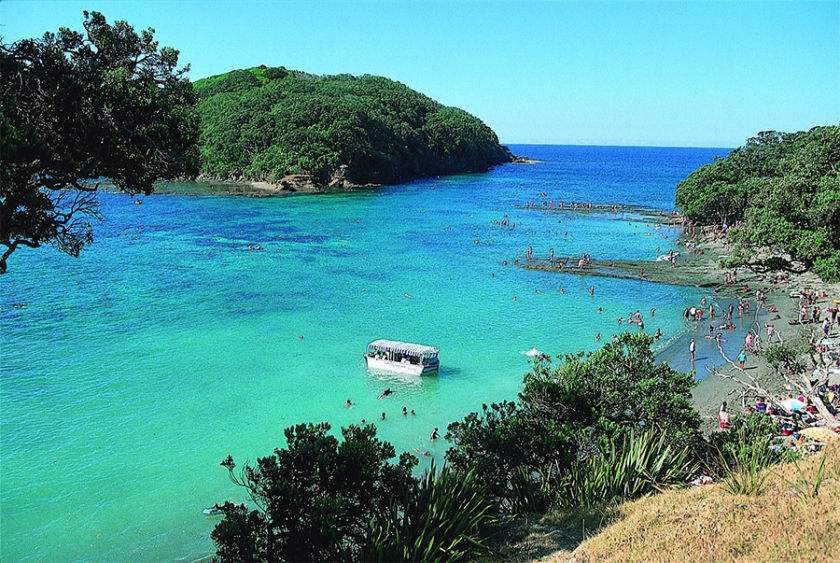 The whimsically appointed Goat Island is a wildlife / marine sanctuary near Auckland that happens to double as one of the city's premier dive locations. You can go snorkeling, SCUBA diving, and so forth amidst a kaleidoscope of multicolored marine life, or if you prefer to stay dry, you can take a tour on a glass-bottomed boat.
4). Life's a Beach in Auckland

Being an island nation, New Zealand is naturally blessed with an abundance of beaches and coastal attractions, and Auckland makes this fact readily apparent by offering a huge number of beachy things to do, all totally gratis, of course. Why settle for either black sand or white sand beaches when you can have both in Auckland? And if you surf, that's up for grabs, too. Of course, swimming, sailing, picnics, and more are all options as well. Don't forget your sunscreen!
5). Lighthouse Tours
Lighthouses have always had a strange gravity to them, and the ones within Auckland's environs are no exceptions. Perhaps the best option for folks looking to take a tour like this is to get a ticket to see the Manukau Heads Lighthouse. Restored to working order and used as a museum, it now serves as a tourist attraction and educational facility.
6). Make Like Frodo & Sam
Frodo Baggins and Samwise Gamgee spent the bulk of the Lord Of The Ring films walking across Middle Earth, and since the films were shot on location in New Zealand, you can retrace their steps!

Of course, you don't have to be a fan of epic fantasy to enjoy all the free walking tours available in Auckland and the surrounding area; you can enjoy everything from leisurely strolls through the city to aggressive bush hikes. There really is something for people of all goals and skill levels.
7). Summer Cinema
Every summer, Silo Park holds a rotating selection of free movie nights every Friday and/or Saturday. In combination with the attached night market (not free, but custom isn't obligatory), this free "Silo Cinema" (the name arose from the habit of projecting the films onto the park's adjacent silos) has become a cherished city tradition, so if you're in town during the summer, bring a blanket and some snacks and join the party!
8). Go Tea Tasting
Tea has become quite hip over the past few years, and Auckland is in on the trend. Come to Queen Street for a free tea tasting (hot and cold teas available).
9). Park It!
New York City has Central Park, and Auckland has The Domain. The oldest park in the city, this vast and publicly available swath of greenery is a great place for relaxing - go picnicking, kite flying, practice your photography, hang out with friends, or just stroll around taking in some of the ancient growth trees or waterfalls in the park itself. Oh, and they have outdoor concerts and stuff too on occasion, so catch them if you can!
10). Go Bird Watching
Are you a birdwatcher? Then you're going to love Auckland! Muriwai Beach has one of the largest gannet colonies anywhere on the planet, boasting 1200 nesting pairs at any given time. The landscape itself is comprised of rugged seaside cliffs, but there are two viewing platforms conveniently located near the colony for your convenience and enjoyment.
11). Visit Clevedon Farmers' Market
Foodies, this one's for you. If you're into the organic, farm to table, or other such movements, the Clevedon Farmers Market is the place for you. Located near Auckland's Eastern Beach district, they've got everything from hand-cured meats to garden-grown produce. Browsing is 100 percent free, but don't be surprised if you cave in and buy something!
12). The Waterfront
What would Auckland be without its waterfront? The list of priceless - in every sense of the word - things to do here is so long that it's hard to narrow it down. Watch the boat traffic drift by. People-watch. Stroll along the quay and take in the sights. Try some fish and chips. Whatever you end up doing, it'll be a day well spent.
13). Stop and Smell the Roses!
You know that old expression, right? You gotta take time out to just slow down and appreciate life. You'd be hard pressed to find a better place to take such an axiom to heart (while actually bringing roses into the equation) than the Parnell Rose Gardens. It's actually a multi-park complex, and with 5,000 flowering bushes, you'll probably smell it before you see it. Of course, once you do see it, the riot of color will sweep you away, and the bay views beyond will simply be the cherry on top of a postcard-perfect experience.
14). The North Head Tunnel Complex
Cavers will swoon at the chance to plunge into the dark, twisting confines of the North Head Tunnel Complex. Rather unsurprisingly, this is a particularly popular option with the younger set. Of course, if you'd rather find your enjoyment in less claustrophobic climes, you can stay above ground, heading instead for the nearby beaches and the Devonport Navy Museum.
15). Do Go Chasing Waterfalls!
If you're the type who enjoys having your hikes rewarded with gorgeous waterfalls (and really, who isn't?), New Zealand has several treks designed exactly for you. For the more, shall we say, physically economical crowd, Karekare Falls is literally so close to the parking area of its preserve that you can exit your vehicle and almost hit it with your door. Here's a super-secret tip: Wait until it rains really hard, then go. The falls will be magnificent!
16). One Tree Hill
No, we're not talking about that One Tree Hill. Rather, Auckland's One Tree Hill is a lovely walking-oriented attraction designed for people who enjoy views, socializing, and a bit of fresh air (and yes, a sneaky cultural reference). Of course, you can also bike back down if that's your thing; there's an observatory at the top too, if you're into astronomy.
17). Get Red Scared
Military buffs will love this next entry. Fort Takapuna is known colloquially as "The Russian Scare Fort". Built just before the turn of the century (that is, 1900), there's plenty to see and do while you're here, including a self-guided coastal walk, a bunker network to explore, and more.
18). Check Out a Live Volcano!
Ok, so not actually in Auckland, but if you're after a little day trip somewhere not too far away from Auckland, then head to White Island. Where Mount Eden is blissfully dormant, Auckland's Whakaari volcano, situated in the Bay of Plenty, is still very much alive. Pluck up your courage, grab a camera, and head on out to White Island - the volcano's English name - to watch this titanic vent pour forth ash, smoke, and fire from the heart of the Earth.
19). Putter Around at Potter's
Are you traveling with little ones? If so, this next freebie is ideal for you and yours. While you can certainly take kids along for the vast majority of the entries on this list, a rose garden like the one reviewed above might prove to be a less than ideal option if you're a family who favors the botanical route.


The Potter Children's Garden, by contrast, is purpose-built for kids (and kids at heart!). Using the Garden's live biome, visitors learn about the biology and evolution of the insects, birds, and plants that populate it. Of course, weather and its impact upon habitat and adaptation is also discussed, as is the larger role of this phenomenon. Quite interestingly, there's also a bit of education on New Zealand's roots as part of a larger (but now extinct) continent. Finally, this being a place for kids, the folks at

Potter's made sure to include a huge play area, the better for them to wear off any excess excitement from all the fun they'll be having! Meanwhile, the grown-ups can head on over to the cafe and grab a cappuccino. That such a place is free is truly inspiring - don't miss it!
20). Scratch Your Architectural Itch
If you're someone who loves architecture, Auckland will delight you. The stereotypical first stop for any architectural or civil engineering bug while they're in the city is probably the Auckland Harbor Bridge, but the city has tons of buildings, from ancient forts to gleaming, ultra-modern spikes like the Sky Tower. Best of all, viewing them won't cost you a cent, and you can usually take elevator rides to the top of Auckland's taller offerings for the added benefit of panoramic city and / or harbor and ocean views.
Conclusion
Auckland is a world-class city all on its own - clean, full of friendly people, and charming. Still, when you throw in the nearly year-round selection of free things to do, it's hard to see why anyone would ever want to leave! While others might find such a deluge of choice overwhelming, this handy guide means the only thing you've got to decide is what you're going to do first. Thanks for reading, and have fun!