Valentine's Day is like marmite: you either love it or you hate it. But whatever your take on the day for lovers, it is once again upon us. It is the one day of the year when the singletons will protest their loneliness, or strive to secretly tell their unspoken love of their true feelings.
And where lovers will seek new ways to express their devotion and undying love for one another either genuinely or in fear of the consequence of daring to suggest that it is 'just another day' to their devoted other half. For many of us, it is a day that creeps up all too fast, it swoops in at a time of year where, for most, we are still getting over the financial holocaust of the festive season.
But fear not, if you are seeking inspiration, or a little help in setting the mood on the special day, we have put together a series of the finest Valentine's Day apps to help you make it through the day.
Valentine Radio
By BluMedialab.com

So you've made a special Valentine meal for you and your loved one, you reach for your cd player to put something on and set the mood, but you forgot to stock up on your Al Green and Marvin Gaye. All there is in reach is some Rage Against The Machine and Morrissey – hardly mood setting music. Well, have no fear: the Valentine Radio app has selected around 40 romantic radio stations to help you set the mood for that perfect evening. Just load it up; select your station and you know whatever is playing will be smooth with a capital smoooo.
Price: Free
30 Day Relationship Challenge
By Five Hellions Development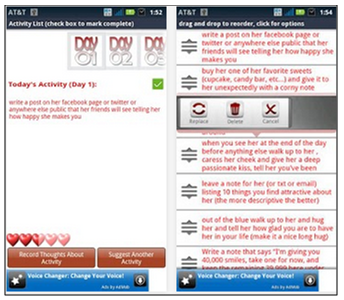 Ok, this popular app is for those that are REALLY committed; for when saying 'I love you' does not even begin to explain the devotion you have for each other. The 30 day challenge is exactly what it says on the tin: it is a challenge where each day for 30 days you must do something new; a gesture, a gift, a poem or song, whatever you desire but you must do this for the full period. It can be a great one for forging strong relationships, or simply for spoiling the one you love. On the other hand it could be overkill, we'll let you decide.
Device: Kindle.
Price: Free
Say I Love You - In Different Languages
By Pocket Books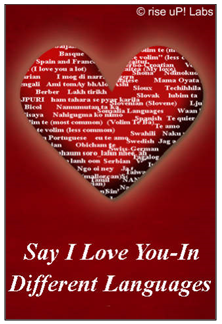 Do you really want to show off? Well how about saying I love you in 50 different languages to the one you love. I bet no one has ever done that for them before. This great little app will tell you how to say I love you in over 100 different languages. So charm their socks off, get your linguistic skills tuned up and get learning those magical 3 little words in a range of different styles and dialects.
Device: iPhone.
Price: Free
Well that concludes our selection, and a fine one it is too. There are apps here to charm, to set the mood, to forge strong relationships, to keep in touch and to give you gift inspiration. There really is no excuse to fall short on the big day with these in your tool box, and the beauty of it is, they are all free. So have great day, whatever you do, and don't forget to say those three little words to someone special, in any language you choose!!