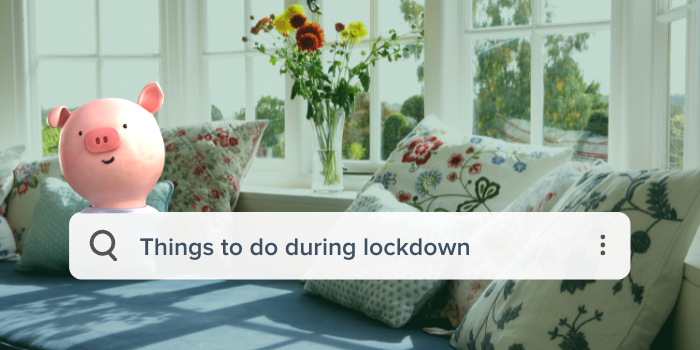 Spread (stretch) your legs! 
Haha! Jokes aside, this is actually a great idea, and we are allowed to do so during Covid… so get your mask on and head around the block for a wee walk!
Good vibes
We know doing nothing is hard… you never really know when you're done. Lols! But you can take some time to pray, meditate (finally!) or simply put some positive thoughts into the universe for your loved ones and for Planet Earth (we know we're all needing it!)
Dance
Listen, sing and dance to songs from the 70s and 80s, or listen to a new music genre! Wear whatever clothes you have that feel like they belong to those times. And GenZ, Don't sweat not knowing the moves; just enjoy it!
Sleep more!
Sleep a lot. And without guilt. He who wakes up early... yawns all day long. And we can enjoy a bit more sleep now that we have more time due to not having to commute to work. So have that lie in, guilt free!
Special meal
Make a dinner party for yourself and whoever is with you. Make an invitation. Go the extra mile and set your table exquisitely. Light candles. Put on your best clothes and enjoy the moment. Cheers! 
Learn new words in different languages 
Try speaking a few words in French, Russian, or Japanese. Include the languages of those places in your list of upcoming trips. We're already speaking  funny over here with a solidcrack upaccent, 'yah, nah, yah!'.
Binge-watch
Watch You Tube's, Neon's, TVNZ's or Netflix's musicals. Musical movies just lift the mood. We know going to the dark side of binge-watching is not always good… but it's ok at times, and they've got "Wellington Paranormal"!
Plants!
Talk to your plants. How are they? Make sure they are getting the amount of sunlight they need. Check their soil. Water if needed. The good thing about plants is that they don't ask questions, plants justunderstand!
Hair treatment
If you don't need a hairstylist because your pillow is giving you a new hairstyle every morning, just take some time to deep condition your hair and moisturize your hands... heaps.
Declutter
Find your feng shui and Mary Condo your life. Have a proper clear out and upcycle - one man's trash is another man's treasure. Don't call yourself lazy if you're not really in the mood for decluttering. Just say you're highly motivated to do nothing… and no worries... just move on to the next idea on the list!  
Breath
Seriously. Take a deep breath through your nose and exhale through your mouth! Check out some cool apps for finding calm, such as 'Headspace' and 'Calm'. 
Camp! (at home!)
Get to the living room and camp with your family using all the blankets, popcorn and horror movies you can find! You can also play around the house with the kids, building blocks are the best! Yay!
Stretch.
Just streeeetch.
Talk to family
Interview your children, grandchildren, parents, grandparents (by phone, of course) and save the audio. Can you create a story, podcast, or audiobook with this file? Wouldn't that be great for your future generations to come?
Look at pictures
Revisit your old photos and choose your favourites. Make a photo book or order framed versions online!!!
Play chef!
Be a Chef and learn to cook new recipes with ingredients you may never have used before. From miso soup to chocolate chip cookies. Just be mindful; a cookie a day keeps the sadness away… an entire jar of cookies a day brings it back.
Take time to be grateful!
Make a list of things you are grateful for… Anything really… For example me: I would like to thank my arms for always being by my side, my legs for always supporting me, and my fingers because I can always count on them. 
Wine time!
Make your own tasting of any bottle of wine you have at home — makeup stories about the journey from grapes to your mouth. We know wine does not solve any problems, but then again, neither does milk.


Look at your finances!
Work on your financial planning, such as exploring whether you want to refinance a loan, consolidate debts or ways to save more money! We have loads of tips and we are in tthe top best to help you!