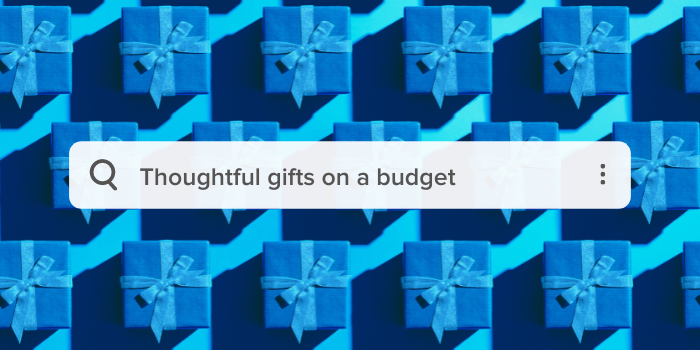 Emptying your wallet is not the key to giving thoughtful gifts! The key is understanding the person you're gifting and focusing on something special, just for them. Don't overthink it! When you think you have to spend serious $ on a gift, you can end up putting pressure on yourself and your finances. So our team wrote down a few ideas around giving gifts and how to feel great about spending less!
Here they are:
DIY! Do it Yourself
Everyone loves a homemade gift! This option is great especially if you're super creative. Grab your arts and crafts box and put together a dry flower bouquet or embroider a hand towel. Not everyone has these skills, but anyone can make a photo album with photos you know they'll love - you can find great photos of people on their social media! Or just embrace the idea of "Do It Yourself" and write a beautiful letter for them, put it in an awesome handmade card! Write them poetry or even a song!! Regardless of the price, the most important thing is that your friends and family have your thoughts about them to treasure forever.
Invest in experiences
Affordable and thoughtful gifts don't necessarily have to be objects! To save on expenses and, at the same time, provide a different unforgettable experience, why not explore options such as a picnic or a special afternoon in a new outdoor location? Experiences like a relaxing massage (given by you!) or a road trip, for example, are unforgettable. Be creative! Have they ever had someone create a special photo shoot of themselves around town? Maybe you can record them a video with messages from their loved ones! To present your experience as a gift, try making a homemade coupon or experience ticket! The added bonus, you can go too! There is no better gift than time together with your loved ones. 
Give gifts together
Prefer gifts that have a more emotional value? Choosing a gift together with someone can make all the difference. They can pick something just right for them, and you know they'll love it! Also, if the gift is out of both of your price ranges, group together and share the cost, your wallet will thank you! And like you've already seen, with creativity and love, it is possible to give incredible gifts without hurting your finances.
Unique surprises
To make the date even more special, you can start the day by surprising the one you love! Prepare their favorite breakfast, maybe bake a cake and make a lovely cup of tea and juice. Pretty presentation is the key to making this gift idea really take off!... place in a beautiful basket or tray with flowers and fruits. Breakfast in bed? Take the opportunity to include a special note written by yourself with a heartfelt message.  
Sign up for sites to receive promotions
If you have an idea already on the gift you want to give, sign up to receive newsletters and promotion alerts from the sites that sell this product. You can stay on top of all the brands' offers in advance and can take advantage of the best promotions to guarantee a cheaper option for the gift they'll love.
Did you enjoy these tips to give great affordable gifts? Save and share if so! Or send us a wee message, we'd love to know what you think.